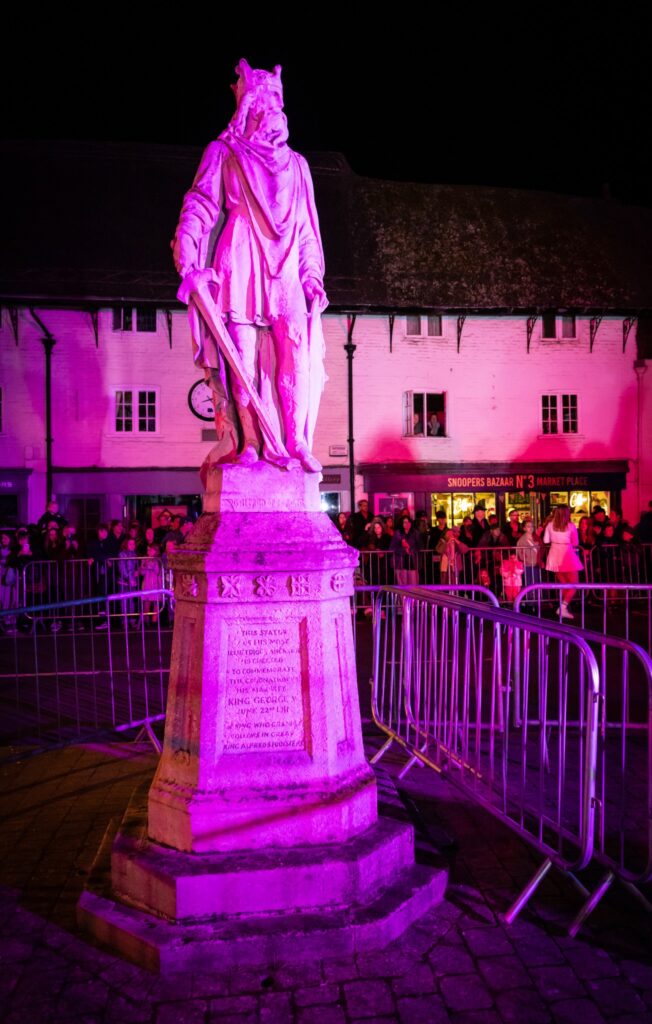 So when did Pewsey Carnival Begin?
Legend has it that King Alfred granted Pewsey the right to an annual feast day after his victory in battle.
Pewsey held its first Carnival in 1898 and we are proud to say we are Wiltshire's oldest Illuminated Procession. That year, inspired by a Mr George Goddard who owned a bike shop in the village and had seen a bicycle procession in France, locals took to the streets on their own two wheels collecting funds for Savernake Hospital.
Pewsey Carnival was the first in Wiltshire but the key element of fund raising is the same today, with donations being made to many local causes which have included charities and appeals such as Wiltshire Air Ambulance, Prospect Hospice, Brighter Futures Radiotherapy Appeal, Naomi's House Hospice, Julia's House and many other local charities and organisations within the Pewsey Vale.
Carnival was paused during the First World War, the early 1930s and the Second World War, but it resumed in 1947. In the mid 1950s, the outbreak of Foot and Mouth disease meant Carnival being paused again. Carnival since the 1960s has had an uninterrupted run up until the outbreak of Covid-19 in 2020.
But what does Pewsey Carnival have to offer now?
Carnival has grown over the last 124 years and now spans over two weeks including events such as duck races, quizzes, darts, golf, all in the lead up to our main events: 4 Legged event, Wheelbarrow Event and the Illuminated Procession. Additional events organised during August Bank holiday such as our Scarecrow Festival as well as seasonal events such as Easter and Christmas Fayres.
We also organise a Royal Family Selection event each year, inviting the youth of Pewsey to be introduced to Carnival and have the opportunity to represent us and feel like Royalty! Our first Carnival Queen was crowned in 1934 and this is a tradition we would love to continue!
The Feast- A Carnival Tradition
King Alfred and his return to the village meant a Feast of celebration was organised- something we as a Carnival still celebrate in the present day. The Feast Tea remains an important element and takes place on the middle Sunday of the two weeks in September, open to the over 60s. Approximately 100 locals are treated to a traditional afternoon tea in the Bouverie Hall with musical entertainment- a true moment of reflection and celebration of Carnival's continuity of Pewsey traditions.
And the moment everyone has waited for: The Illuminated Procession!
Many people patiently wait year on year for the largest Carnival in Wiltshire- we even get crowds travelling from the likes of Norway, America, New Zealand and Australia to name a few!
After everyone has worked tirelessly all year round either organising, or crafting their outstanding floats and carts, the procession makes everything worthwhile. The atmosphere on procession day is electric and participants gather at the Carnival Field from late afternoon ready for the firework to signal the procession start at 7.30pm. A grand tour of the village begins and crowds gather to watch the spectacle, complete with acts such as live marching bands, fire-juggling performers, circus acts and most importantly, the volunteers collecting donations of loose change for charitable causes (the main objective of Carnival).
So what are you waiting for? Why not get involved with volunteering to continue these traditions? Save the date and join us for a Carnival to remember!